For anyone who has experienced addiction they are well aware that it is a highly complex illness.  Generally it is not the addiction alone that requires resolution.  Many individuals suffering from addiction also suffer from depression, this may have been a contributing factor to the addiction or the addiction may be the cause of their depression.  Regardless of the order, both must be addressed to get healthy and ensure positive well-being.
Considering the severity of both illnesses, sufficient time, commitment and effort need to be allocated to overcome them.  Put simply, you cannot pick and choose you must take whatever steps are required to overcome both illnesses.  This is the tricky part, as despite the link, they are also conflicting issues.  As an addict you are dependent on a substance, usually drugs or alcohol but in order to treat depression you often need to take a substance, specifically prescription medication to treat the illness.  Alcoholics Anonymous is the leading organisation in supporting addicts to overcome their addictions.  However some take the stance on prescription medication  that there is a danger in using them as there is a potential to replace the previous substance with medication.  The alternative however, is to avoid medication and possibly spiral deeper and deeper into depression.  It cannot be ignored and in addition to therapy, anti-depressants are an effective way to alleviate and overcome this illness.
AA also has a focus on spiritual recovery  and some members of AA have a blind side to the potential need of members to adopt other methods such as psychological or medical support.  Outside factors or alternatives may not be given adequate consideration within AA and when dealing with something as life threatening as depression this is a major flaw.  Another reason the fear of medication is unwarranted is that prescription medication is also used in many cases to ease the withdrawal symptoms experienced by addicts.  And in many cases medicated support is a must; total abstinence from a substance could prove fatal.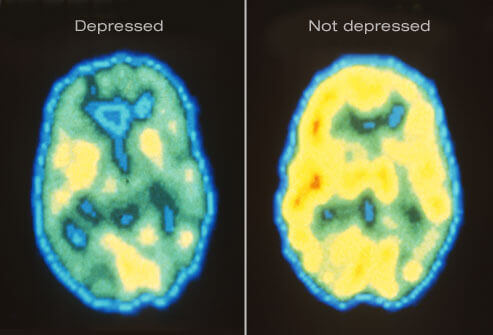 For those in recovery and who are using AA as their means to a sober and fulfilled life, that is a wonderful thing.  But the addiction in itself is often not the only issue.  Many addicts experience depression as part of their addiction or as a symptom of their recovery.  In these cases people cannot rely on the support of AA alone.  The co- founder of Alcoholics Anonymous Bill Wilson had to go beyond the ethos and supports offered within the AA fellowship in order to overcome his own battle with depression.
"Reinforced by what grace I could secure in prayer, I found I had to exert every ounce of will and action to cut off these faulty emotional dependencies upon people, upon AA, indeed upon any set of circumstances whatsoever."
                                                                        -A letter from Bill Wilson on Depression
 This new perspective in addressing his depression was brought about by a meeting with Fr. Ed. Dowling.  From his initial Religious Conversion View of treating his depression Bill moved on to explore the psychological approach when his depression became unbearable four years later.  Bill went on to receive therapy with a variety of therapists including Henry Tiebout who specialized in the treatment of alcoholics.  He also received treatment from two other therapists over a period of years; he followed this approach for a number of years and his experience in psychotherapy had an extensive impact on his understanding of recovery in future years.  Letters written by Bill Wilson in 1956 refer to the application of psychotherapy to AA principles.  He felt that the two approaches combined could best serve the needs of alcoholics suffering with depression, rather than addressing them in isolation.  Through his recovery and battle with depression he dedicated his life to gaining a greater understanding of both illnesses; particularly depression as it had become his main demon.
"Shortly before his death, Bill was asked what one thing he would like to be most remembered for in the history books; He said that it would be for his promotion of the B-3 Therapy, not the creation of Alcoholics Anonymous."
-(Ernest Kurtz, Not-God: A history of Alcoholics Anonymous (Hazeldon Press 1979) P. 137-38.
 Through his own personal experience Bill Wilson was able to recognize that AA alone could not address his dual diagnosis of addiction and depression. Therefore, it is difficult to understand where the hard-line AA people came up with the idea that no prescription pills can be taken if real sobriety is to be achieved.    In his later years Bill worked on an experimental basis to uncover what was the best way to address his depression.  He had been sober for over 20 years but the depression he was suffering tarnished his life and became the main focus of his energies.  This highlights further the need to go outside the traditional 12 Step Program designed by Bill himself.  His experiments caused issues between him and the AA fellowship; colleagues were completely opposed and concerned with Bill's use of mind altering drugs, namely LSD in the 1950's.  Initially he defended his approaches but later decided to remove himself and his associations with AA in order to research and develop his theories.  There was merit in both sides of the argument, as drugs such as LSD were untested, unrehearched and potentially dangerous, but on the other hand AA were committed to viewing depression as an outside issue and not one to be worked on through their steps and traditions.
Unfortunately addicts cannot ignore an illness as serious as depression.  Research demonstrates that depression and addiction combined is one of the highest risk factors for suicide.  And the majority of addicts suffer from depression, with men who are alcohol dependent having rates of depression three times higher than the general population, this is even higher for women at four times the rate of the general public.
In 1960 Bill discovered that niacin was the answer to his life long battle with depression.  He devoted himself to spreading this message from 1960-1971.  He had been sober since 1935 but had never been able to alleviate his depression until he began to take the medication available at the time.  Finally Bill had found respite from the illness that controlled his life for years, and despite the profound impact AA had on his life in his earlier years, it was medication that finally gave him peace from his depression.
Sources:
http://www.dualdiagnosis.org/resource/depression/
http://www.steppingstones.org/billsstory.html
http://silkworth.net/aahistory/billw_depression.html
http://stepstudy.org/1944-bill-gets-depressed/
http://vitaminb-3therapy.blogspot.com/