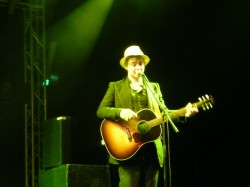 Newly drug-free Pete Doherty is "in mourning" for his heroin addiction.
The Babyshambles star also admitted his chances of staying out of trouble with the law are "quite slim".
Doherty claims to be clean after his latest stint in rehab but he told the NME: "It's hard work. I think I miss it a bit.
"After years of entrenched drug abuse you have a mourning period. I know it's a bit sad, but I'm in mourning. I'm in mourning for an armful."
Last week a judge handed Doherty a two-year suspended prison sentence, an 18-month supervision order and a 12-month drug rehabilitation order.  Read more